Books, Courses & Support
Fermentation Books
********************************
it's finally here…
The Big Book of Kombucha!!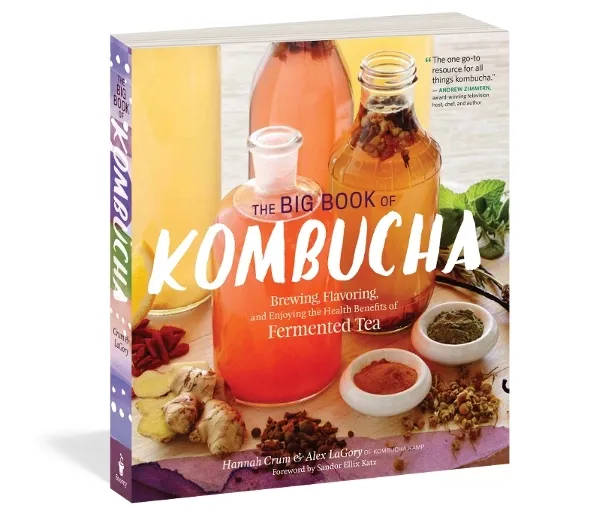 400 Pages of Instruction, Tips, Troubleshooting, Cooking,
Cocktails, Smoothies, History, Science & More!
400+ Recipes including 268 Unique Flavoring Ideas
The Most Comprehensive, Detailed, & Researched Book Available!
*****************************
Early Praise for The Big Book of Kombucha!
"Brilliance…the one go-to resource for all things Kombucha."
– Andrew Zimmern, Creator and Host of Travel Channel's Bizarre Foods
"Full of interesting tidbits tucked among all the practical and scientific information."
– Dr. Terry Wahls, author of The Wahls Protocol
"The definitive guide to all things related to brewing, savoring, and cooking with kombucha."
– Michelle Tam New York Times best-selling author of Nom Nom Paleo: Food For Humans
"Deep-rooted insight…a critical addition to the bookshelf of anyone interested in good food."
– Jennifer McGruther, author of The Nourished Kitchen
"Comprehensive and relentlessly funny!"
– Russ Crandall, New York Times best-selling author of Paleo Takeout and The Ancestral Table
"A recipe book, a manifesto on fermented foods and drinks, and an incredibly enjoyable read."
– Katie from WellnessMama.com
"Innovative…very thorough…backed by citations to research."
— Sandor Ellix Katz, New York Times best-selling author of The Art of Fermentation and Wild Fermentation
****************************
A word about shipping: We appreciate your support and hope to serve your fermentation needs today and in the future. If you purchase our book here, we may employ a re-shipping service to save money and deliver it to you more quickly. This means in many cases your book may ship separately from other items in your order and may also arrive via a re-shipping service or even Amazon.com depending on your location. These services allow our small family business to make a small margin on your order while keeping prices as low as possible, and also provide the best possible service.
If you would prefer to purchase our book directly from Amazon.com at a lower price, and receive the same or similar service as placing your order via our store, we encourage you to do so and are happy to provide the links here (a small portion of your purchase price comes back to KKamp if the affiliate links are used at no extra cost to you):
Buy The Big Book of Kombucha on Amazon
Paperback              KKamp Affiliate Link               Non-Affiliate Link
Hardcover            KKamp Affiliate Link               Non-Affiliate Link
Kindle                   KKamp Affiliate Link               Non-Affiliate Link
Or click on the product below to place your order directly from Kombucha Kamp. No matter how you get The Big Book of Kombucha, we thank you for your support and encourage you to leave reviews here or on Amazon.
(At this time the e-book version is not available at KKamp. We apologize for any inconvenience.)