———————-
"I'd love to see Kombucha
become a household name."
– GT Dave
———————-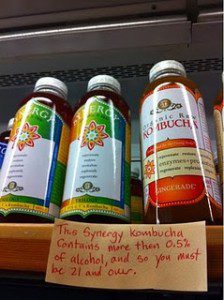 photo credit @vegansaurus
A hot tip showed up in my Kombucha keyword Twitter stream last week – @Locali, the "conscious convenience" sustainable market in Hollywood, CA, tweeted the deets:"FULL STRENGTH GT's KOMBUCHA & SYNERGY will premier on the shelves @locali on 12/22/10…the original formula is back & Locali has it first!!" 9 Dec via web
That got me excited. I mean, sure, I can drink my own "full strength" stish whenever I want, but GT's coming back onto the market in it's original formula (as an above .5% alcohol beverage) is a big deal to a lot of fans out there. That means The Kombucha Mamma needs to be on the scene!
In case you missed it, ever since the Great Kombucha Recall of 2010, GT Dave's Synergy & Raw Kombucha fans had been filling up his Facebook wall with complaints, requests, insults and out right begging to bring back his original formulation. As my discussions with him in September demonstrated, GT was committed to doing so. However, the first product made available on shelves after the recall was his new "Enlightened" Kombucha, a lighter profile beverage designed to comply with the labeling laws for under-21 consumers. This new product has been well received by many, but there were die-hards left unsatisfied.  So with news of it's impending arrival, I headed over to Locali with ID in hand to get my store bought full strength Kombucha fix!
Locali, Italian for locally, is a quaint little sandwich shop (vegan/veg/omnivores welcome) store nestled between a dry cleaner and a Thai restaurant on Franklin Ave.  The shelves are stocked with eco-friendly gadgets, hippie-chic soaps, and a huge line of beverages including organic wine, acai beer, kefir water and yes, Kombucha.  At first glance, it is not obvious which bottles of Synergy were supposed to be "full strength."  Some of the "Enlightened" versions have a new label that says Enlightened on it, but some look like the over-21 bottles on the shelf, at least from the front. The major difference between the old label and the new label is a large "Government Warning" panel on the side of the bottle. There is also a message from GT to his fans.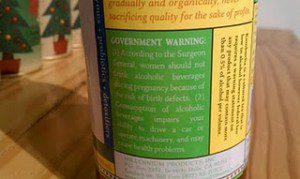 Of course, I had to call GT Dave myself to get his opinion on the warning, which states that the beverage "may cause harm to pregnant women, may cause birth defects and may cause health problems," harsh words that contradict the values of what GT's Kombucha has striven to embody for the last 15 years. "It's unfortunate that this statement has to be on our label.  Luckily, our fans are sophisticated enough to understand that this is just a formality," he said.
Although I had to be carded to make my purchase, GT was quick to point out that
this is not your typical "adult beverage."
While at Locali, I decided to poll customers for their reactions. "I didn't like the (Enlightened) Kombucha. The ginger was more bitter and it lacked 'power,'" said Vanessa Fiola, a blogger who has reviewed many Kombucha brands on her blog and happened to be grabbing her lunch that day.  About the Strawberry Full Strength, she said it was "sweet, sweeter than I was expecting."  When asked about the recall, Vanessa had this to say, "I think it was an overblown attempt to regulate something that has been working for people for years."
Heather, a Locali employee, commented that drinking the full strength version is like "reuniting with an old friend.  It has that flavor that made me hate it when I first tried it but then loved when it made me feel good. I missed that bite." A great description of many people's first reaction to a strong Kombucha, in my opinion.
One regular customer, Ben, who says he buys at least 1 bottle of GTs a day, said that he was digging the Enlightened version more. "Just a better flavor and easier to drink it all."
The outcry and the dedication of Synergy's fans has been overwhelming, and in many ways The Recall, which was a huge challenge to the industry, paved the way for GT's Raw Organic Kombucha to win the Product of the Year Award for 2010 at industry gathering BevNet Live in December. "What it came down to for us, and we consider several aspects…is although for GT's it was a bit of a roller coaster of a year, the consumer's didn't just forget about it or switch brands. That, to us, is something that proves how strong of a brand GT's is.  They were the talk of the industry," said John Craven, President and Founder of BevNet. For his part, GT found winning the award this year very "ironic. Of all years to be nominated, 2010 was a very rough year for us," he said laughing.
A quick word of warning however to fans of GTs Synergy & Raw Kombucha: it may take a little while to see the full strength product in your area. GT told me, it won't be "an overnight launch or a widespread launch – that just isn't how we do things.  We do things slowly and gradually always keeping quality in mind," said GT Dave.  In his mind, the greatest hurdle will be in changing the retailer's perspective. "
This is the same type of product that we sold 5 years ago, 10 years ago. We have to convince retailers, who don't really know how to handle this, that it can be sold side by side (with the Enlightened version)."
Well, it didn't take much convincing for Greg, owner of Locali.  The full strength and Enlightened versions sit right next to each other on the shelf with nothing more than a hand-written sign to distinguish one from the other (and a few bottles of kefir in between).  In addition to Locali, the full strength product is already appearing in other stores in Southern CA and will make its way up the coast before it spreads across the country.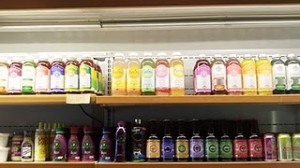 One of the other major formalities is that because some bottles of Kombucha may potentially go over the 0,5% limit if they are mishandled or left unrefrigerated
, the TTB (Alcohol, Tobacco Tax & Trade Bureau) has stepped in to claim its cut. GT said, "even though we are talking about alcohol, at the end of the day we are not talking about a public safety issue or anything that might cause harm."  He speculates that this was most likely motivated by a "tax opportunity." There is currently no classification for Kombucha as an alcoholic beverage nor is there a legal definition of what exactly is Kombucha.

When I pressed him to choose his favorite of the two versions of his product, GT refused, saying "the Enlightened version is just that, a lighter flavor profile for those who found our original formulation too intense.  I see them as a complement to each other.  One is for a lighter palate and one is for those with intense (flavor) desires."  A diplomatic answer to be sure, but I did manage to discover his favorite flavor – Trilogy.  He also stated that some flavors such as the Grape, may only be available as the over 21 product and vice versa, hinting at new flavor ideas up his sleeve (sheesh 17 choices isn't enough! LOL).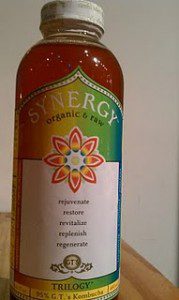 While this process of evolving has been challenging, GT remains optimistic for the future of Kombucha. "We will continue to evolve, adapt and explore.  For a company that is over 15 years old, there are a lot of 'new company' vibes as we have to learn new parameters and new expectations.  The only other time I can compare it to is when I first started my company.  This is just a part of our evolution and our values continue to strengthen."  When asked about the emergence of so many other Kombucha brands, Dave had this to share: "I would love to see Kombucha become a household name, like yogurt; to see a Kombucha aisle in a grocery store. Our goal has always been to build awareness so that more people will benefit from drinking Kombucha."We here at Kombucha Kamp share that vision!  So I raise my glass of full strength Kombucha to you and wish you a Happy New Year.  I invite you to join the "New Year's ReVolution – Drink Kombucha!"  Details to follow, Kombucha peeps. Stay tuned!