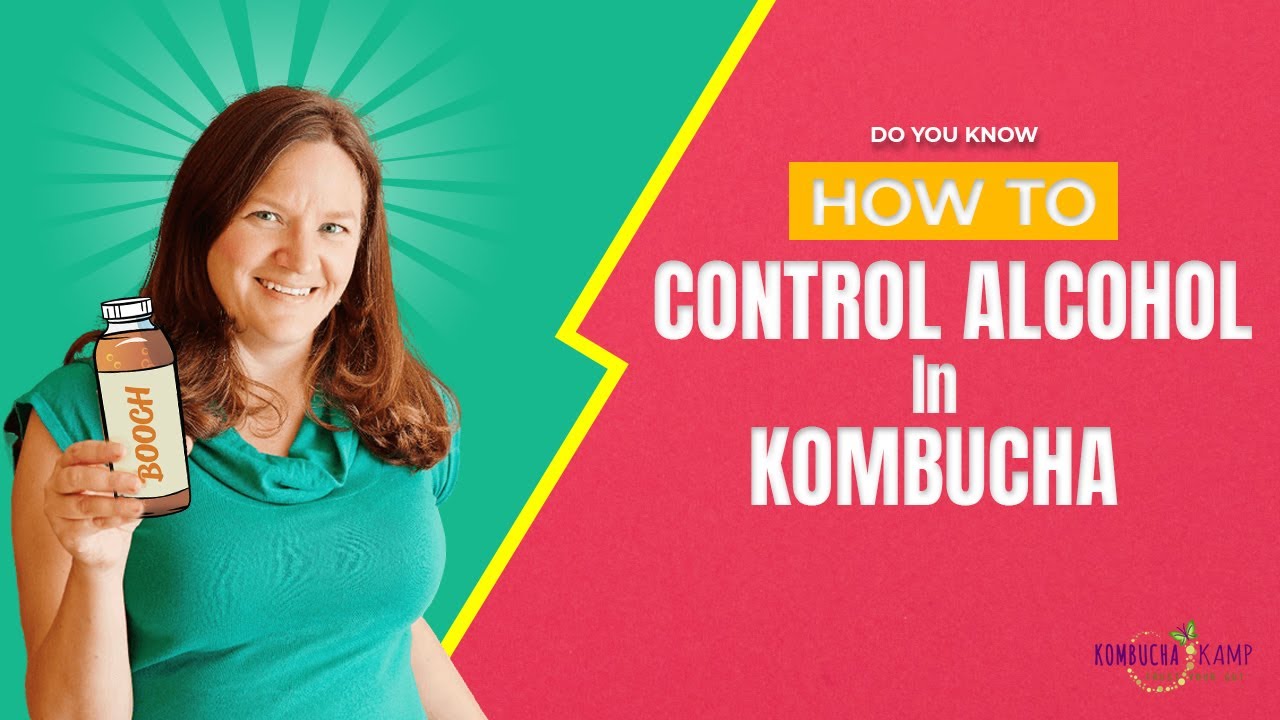 Is there alcohol in Kombucha? What is the Kombucha alcohol content? Will Kombucha make me drunk? These are all common questions that newbies and experienced brewers may have about their booch. The short answer is YES, Kombucha does contain alcohol but it's not exactly the same as alcohol in beer and wine…take a listen to learn more. 
Subscribe to our channel to learn how to make Kombucha at home
Kombucha is fermented tea. Any fermentation process results in alcohol. Fermentation naturally produces it as a defense mechanism against pathogens and mold – just like rubbing alcohol in hand sanitizer or on a wound. However, the amount of alcohol produced depends largely on how long the brew has been fermented and if any fermentable sugars or nutrients (ie fruit, ginger, etc.) have been added in 2F (flavoring stage).
According to the current TTB regulation, taxation for beverage begins when they cross the 0.5% ABV threshold. This level was set during Prohibition almost 100 years ago and of course, there wasn't any commercially sold Kombucha available then. In order to meet consumer demand for raw, living beverages and to update an antiquated law, KBI (Kombucha Brewers International<) has spearheaded legislation that would increase the threshold for Kombucha alone to 1.25%ABV harmonizing with Canada, Europe & Australia. The KOMBUCHA Act needs your support! Sign the petition today.
Hannah Crum the Kombucha Mamma and this is our small family business, the #1 Kombucha shop in the world. We're family-owned and operated, with more than 100,000 HAPPY HOMEBREW CLIENTS in 75+ countries since 2004.
Kombucha Kamp is the #1 Kombucha site in the world! Come by for Free Kombucha Recipes, How To Make Kombucha Videos and 100% Organic Kombucha Cultures with Free Support. (Link Here)
1:30 History of Prohibition & Temperance movement in the USA (why is 0.5%ABV considered "alcoholic"?)
3:10 "The poison is in the dose." Healing generational trauma
4:55 Why is there alcohol in Kombucha?
6:00 Yeastie beasties colonize humans
7:30 Kombucha is an acetic acid ferment
8:20 Can you "smell" fruit flies?
10:00 What does "sugar grams" on the Kombucha label actually mean?
11:48 "Pathogens, by their nature, are weak or we'd all already be dead.
12:30 What is the number one killer?
13:50 What are tinctures?
14:30 How to increase the alcohol content of Kombucha – ie make "Hard Kombucha"?
15:35 2% ABV was the original threshold for "alcoholic" beverages
16:32 How did we end Prohibition?
18:09 The nutritional promise of carbonation
19:00 What is the dominant yeast strain in Kombucha?
19:45 Is there an easy way to measure the alcohol in Kombucha at home?
20:20 How to use a hydrometer for measuring alcohol
22:00 How does drinking Kombucha impact alcohol cravings?
23:00 Why is glucuronic acid important to healthy liver function?
25:15 Can children drink Kombucha or is there too much alcohol?
27:50 Kombucha Cocktails
29:53 How much Kombucha can children consume?
31:36 Book recommendations to learn more – The Revolution Will Not Be Microwaved; Omnivores Dilemma
33:13 What is that euphoric feeling I sometimes get from drinking Kombucha, am I drunk on Kombucha?
35:35 We are nature which is why we need nutrients in living form
39:00 What is the KOMBUCHA Act

?

41:19 How to make a shelf stable Kombucha?
44:00 I need help with my commercial Kombucha, can you help me? Yes! We are Kombucha Consultants

!
Additional Kombucha Resources