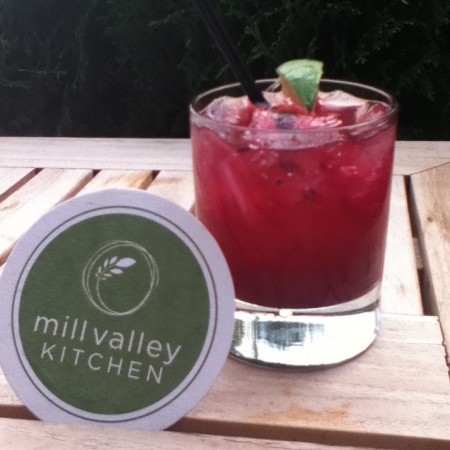 Kombucha's greatest strength is its versatility: healthy beverage, marinade, salad dressing and even cleaning fluid to name a few uses.
How about "Drink Mixer" too?! Yes, Kombucha pairs perfectly with liquor, plus it's a natural liver detox.
That means when you add Kombucha to the mix, you get a little antidote  with your poison.
To celebrate the end of summer, each Friday afternoon we'll be featuring a Kombucha recipe for a new drink.
Enjoy!
********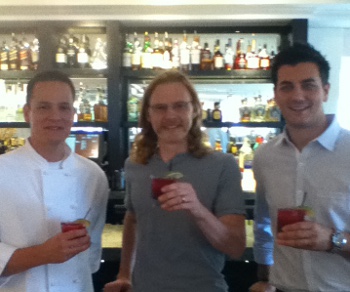 Recently, guest blogger Bryan Deane Bertsch filled us all in on his experience with oak barrel Kombucha brewing, and I recently found out that his brand of (over-21) Deane's Kombucha is being used to make a wicked blueberry Kombucha Margarita.
The Mill Valley Kitchen Restaurant in Minneapolis ("a healthier approach to cuisine focusing on local sourcing, sustainability and organics"), who were already featuring Deane's on tap, put it together. I am ecstatic to feature this "Kombucharita" recipe with my readers.
Executive chef Mike Rakun says, "Like the Kombucha on tap, the margarita is something we have had to educate the customer on. However, those that venture out and order the margaritas, really do enjoy them."
Follow this recipe to take Kombucha south of the border anytime:
Kombucha Margarita
"Kombucha Rita"
Ingredients:
5 Blueberries
1 ½ oz El Tesoro Tequila
1 oz Triple sec
1 oz Kombucha
½ oz Lime Juice
Directions:
Fill a Low Ball glass with ice. Dump the ice into a shaker.
Combine all ingredients in shaker with ice.
Cover & shake vigorously.
Pour back into Low Ball.
Garnish with lime or fresh blueberries.
Enjoy!
********
Have a favorite Kombucha recipe
you'd like to share?
Add it to the comments
or send me an e-mail and maybe
we'll feature your
Kombucha recipe here! 🙂
 ********