Being a Kombucha aficionado, I am always on the lookout for new Kombucha companies, especially for those located in Southern California.  You'd think for a place as populous as So Cal, we'd be a hotbed of commercial brewers, but that's not the case.  Northern California serves as host to a dozen or more.  I guess everyone down here is just too busy soaking up the sun 😉  So, when I came across Búcha and discovered that they are based out of Rolling Hills, CA, I immediately got in touch.
It was springtime and Búcha had yet to launch their product line, but
I am nosey and had to get the lowdown
.  Founder Bern Galvin's story is one that many Kombucha brewers will find familiar.  What started out as a hobby turned into a full time venture.  "I didn't start out wanting to build a company," said Bern.  But with positive feedback from friends and partygoers plus a lifetime of experience developing other people's business dreams into realities,
Bern decided to invest in himself this time.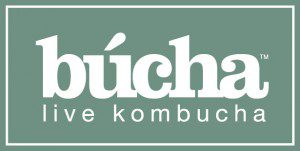 For over a year, Galvin and his team have been formulating their product.  Every month, they held blind taste tests to determine the highest rated flavors.  Lucky for Kombucha veterans and virgins alike, they have 6 flavors that, IMHO, will knock the pants off any soda.  Unpasteurized, only 35 calories per 8oz serving, and delicious? Soft drink companies should be quaking in their boots!
My favorite flavor (being a girly girl and all!) is the Verbena Rose.  I appreciated the mouth feel highlighted by just the right amount of carbonation, and not too sweet either.  It captures the essence of the rose while the verbena mellows out the tartness of the Kombucha.  I'm happy just sipping on it.  (The Marsala Chai is a close second cuz I LOVE chai – YUM!)
The flavor that most surprised me was Grapefruit Sage.  As tart as Kombucha is, I admit to being anti-grapefruit flavor; the sourness has always been off-putting for me.  Boy was I surprised by Búcha's take!  The grapefruit flavor is present but the sourness is completely mitigated.  The sage pairs nicely with the grapefruit and, though subtle, adds depth and complexity to the flavor.
Overall, I think Búcha's drinks are likely to appeal to a broad audience.  The tartness has been dialed back and there are no floating ooglies to creep out the uninitiated.  All the flavors have the perfect amount of carbonation and exhibit more of a soda pop flavor, but are thankfully spare in the sweetness, allowing the natural flavors of the fruits, herbs and spices to shine through.
Due to their recent launch date and special process, Búcha was lucky enough to dodge the reformulation challenge that so many other companies faced.  As the Technical Chief who developed Búcha, Frank Commanday, commented "Our process has always allowed us to control alcohol in both the development process and while the product is in the refrigerated sections of stores."
Of course, as with most Kombucha companies, this process is a closely guarded industry secret.  They closely monitor the fermentation process which allows them to naturally control the amount of alcohol, carbonation and formation of "ooglie oysters".  They do assert that their Kombucha is raw as it isn't subjected to pasteurization.  Kombucha die-hards may balk at the lack of strands floating in their drink and at the milder flavor, but I think many will find this a delicious and refreshing beverage.
The low amount of calories per serving is in part due to their use of erythritol as the main sweetener.  I had never heard of it before.  Here is what Wikipedia has to say about erithrytol:
"It occurs naturally in fruits and fermented foods. At the industrial level, it is produced from glucose by fermentation with a yeast, Moniliella pollinis. It is 60–70% as sweet as table sugar yet it is almost non-caloric, does not affect blood sugar, does not cause tooth decay, and is absorbed by the body, therefore unlikely to cause gastric side effects unlike other sugar alcohols."
Sounds pretty good.
UPDATE 11/15/10 – Búcha has returned to using cane sugar as their primary sweetener.
As the market for Kombucha expands, I think we will see more and more new labels "mushrooming" onto the scene, providing a wider variety of offerings.  I'm guessing that Búcha is not destined to stay a small brewer.  With their delicious offerings, I think they have given themselves room to grow.
This is a win-win for Kombucha drinkers everywhere as it exposes more drinkers to the beverage, which will only lead to greater awareness of the wonderful things Kombucha can do for the body.  One day, maybe I'll be able to walk into any restaurant in town, sidle up to the counter, and order a glass of ice-cold, fresh-brewed Kombucha!  A girl can dream right?
DISCLOSURE: While the samples were provided by Búcha, the opinions are my own.
Búcha is already available in 8 states and at least 60 stores and growing all the time.  Check their website to see if it is now available in your area.