Welcome to the September Edition
of Kombucha News!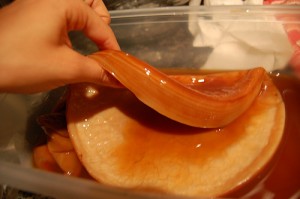 1.  How many brewing cycles do you keep your SCOBYs? Usually, I cycle mine through after the 3rd or 4th brewing cycle – either composting them in the garden or using them for beauty products or other household uses.
2. The Great Kombucha Recall of 2010 has people thirsting for Kombucha any which way they can get it.  While some commercial Kombucha makers have embraced the above .5% alcohol to keep their product raw, most people don't actually get an alcohol buzz from their Kombucha.  Goose Island & Lambrucha (DRIZZLY)  have set out to change that with Kombucha + Beer.  Check out this review from The Mad Fermentationist. Have you tried Lambrucha or Fleur?  What do you think?  Leave your review in the comments section!
3.  The gloves are off and EVERYONE is getting into the Kombucha fray (Coca-Cola owns a share of Honest Tea Kombucha).  Nathan Wyse, with a start-up brand called Thrive Kombucha, is based in Chicago.  His twist on the Kombucha recipe is a Yerba Mate brew done via the Continuous Brewing Method.  Are you in Chitown?  Drop a comment below if you have tried Thrive – we'd love to hear all about it!
4.  Like most humans, food is one of my favorite topics.  This review is so well written, I feel like I was there. Enjoy!