Another wild and maybe even wacky week of the SUMMER RECALL 2010 has passed, and Kombucha continues to permeate the consciousness.  Let's see what's new: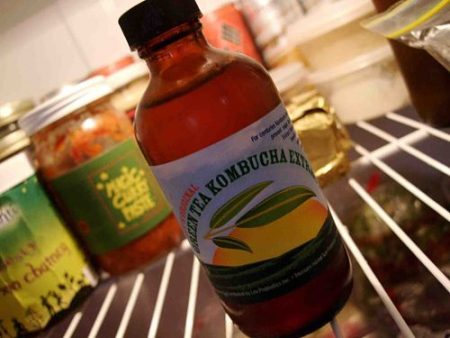 5. Lev's Original (or is it now "Lev's Probiotics of Treasure Island?" – which is a strange name change IMHO) has hit the market with a brand new product: Kombucha Extract!  Okay, so it's new to the shelves, though we have seen some homebrewers selling it and we have used our own "super strong" kombucha for cleaning and keeping grandma in check.  But now Lev's is selling the stuff and says one tablespoon carries the same nutritional punch as an entire bottle of the regular stuff.  Whoa!  No fizz, no alcohol and, we're guessing, No Wussies!!!
6. Finally, Honest Tea, in a piece of marketing we can't decide if we love or hate, set up booths around the country
offering their product on the honor system for $1
.  Most honest city: Not Los Angeles, we can tell you that much.  LA was 75% honest, the lowest of cities listed.  More importantly,
Honest Tea is back on the shelves
starting today, with a new process to keep alcohol in check, plus it will be shipped and kept cold at all times.  Now how about the taste everyone?